Just when we thought collectibles coming out of Texas in 2014 couldn't get any better comes this gold version of the TI Datamath calculator made in 1973.   Held by a Dallas man for nearly 45 years and still sealed in original factory plastic wrap.   TI made a practice of special Dallas distributions of the Datamath.    This is one of the rarest and most perplexing of any TI calculator ever discovered.   It has a serial number and label consistent with other examples in the online Datamath Museum.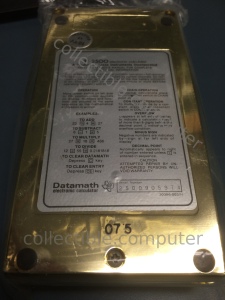 TI pioneered the calculator on a chip TMS100 in 1971 and was awarded a patent for first single chip microprocessor although microcontroller is a better description of the design.    As to kick sand in the face of Intel 4004 fans calculator firm Busicom replaced the Intel chipset with a single TI chip in subsequent versions of it's business calculators.
Unfortunately this model has corrosive batteries that are also entombed in the original plastic wrap and will need to be addressed at some time.   I want to open this on this 50th anniversary of the Datamath in 2022.