Considered the first PC, the Altair 8800 is one of the holy grails of computer collecting.   Ed Roberts was the designer and marketer basing his sales pitch on open architecture and a good deal on an Intel 8080 CPU.     There are plenty out there although prices tend to vary considerably based on originality and condition.
The builder of my Altair 8800 Kit had an eye on performance aesthetics.   Also a low serial number made in 1975.   Mine has a rare matching blue fan and 100 red wires in top condition.   This Altair has only two of the motherboard planks installed but fills the extra floor space with a custom made circuit for a tape drive.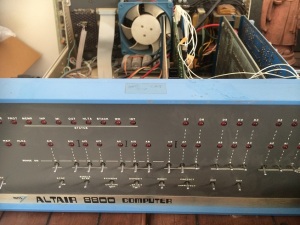 Check out the unassembled motherboard plank still sealed the way it game from MITS.